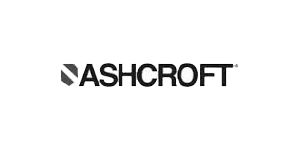 Ashcroft has over 160 years of experience and has worldwide operations supporting partnerships in 55 countries. From Weksler® gauges to many well-known trademarks covering the best pressure gauges in the industry, the manufacturer has had a profound impact on the world. Pressure gauges are available in numerous forms suiting a full range of process and industrial requirements. Ashcroft is also notable for:
Process Gauges: Ashcroft's process gauges offer industry-leading specifications such as accuracy of +/-0.5% of span and ranges of up to 100,000 psi. They are designed to meet leading standards such as ASME B40.1 and EN 837.
Industrial Gauges: Incorporating low pressure devices up to 30,000 psi gauges, these products are designed to ASME B40.100 Grade A standards and accuracies down to +/-1% of span. Stainless steel models function in the most corrosive of environments.
Commercial Gauges: ASME B40.100 Grade B and Grade A models are available. These devices are suited for use in refrigeration, general industrial applications and, in the case of the 2071A Contractor Pressure Gauge, for HVAC and plumbing applications.
Test Gauges: Products include a pocket test gauge for inspection, with a range from vacuum to 1,000 psi, to a precision dial based unit with a +/-0.10% accuracy and range up to 100,000 psi. Various digital units serve as accurate, durable test instruments.
Differential Gauges: Ashcroft offers several economical products for measurements between two pressure sources.
Sanitary Gauges: Models accommodate vacuum and various pressure ranges. These highly accurate devices are built to meet strict sanitary requirements and include digital units.
Stainless Steel Gauges maximize durability and longevity in high-pressure, hazardous environments. Ashcroft's include:
2084, 2086, 2089 Precision Digital Gauges – Stainless steel gauges with high accuracy and supporting vacuum up to 7,000 psi, compound and absolute.
2074, 2174, 2274 Industrial Digital Gauges – Multifunctional devices with accuracies of +/-0.25% of span, made of stainless steel and fiberglass reinforced thermoplastic. Support vacuum up to 20,000 psi.
D1005PS General Purpose Digital Gauge – Range is vacuum to 10,000 psi. The unit supports nine engineering units for use in various applications.
2032, 2132, 2232, 2036, 2136, and 2236 Digital Sanitary Gauges – Range from 15 to 1000 psi, including metric, compound, and vacuum.
Other instruments by Ashcroft, and sold by Haygor, include:
Pressure Transducers and Transmitters
Pressure Switches
Differential Pressure Switches
Temperature Switches
Panel Meters and Pneumatic Transmitters
Ashcroft gauges, transducers, transmitters, and switches are highly reliable and accurate. The company offers something for just about every application. You'll find general service to top-of-the-line industrial gauges right in our catalog.