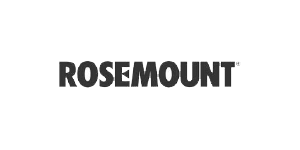 Rosemount offers a leading line of pressure and temperature instruments recognized throughout various process industries. According to Emerson Process Management, over 10 million Rosemount pressure devices have been installed around the world. They are designed to increase the productivity of any plant. Complete temperature assemblies are available and are among a vast and respected portfolio of transmitters, sensors, and thermowells.
PRESSURE TRANSMITTERS
Rosemount pressure devices include the 3051S Scalable Smart Pressure Transmitter with a reference accuracy of 0.025% of span and a long-term stability of 15 years. Like all devices in the brand, it has been leak tested. Supporting pressure, flow, and level applications, the 3051C Smart Differential Pressure Transmitter offers 0.04% accuracy while the 3051T Smart Pressure Transmitter is also a leading measurement solution.
Other pressure instruments include the 2051C/T Smart Pressure Transmitter, 2088 Gauge Transmitter, and the 2090P/2090F Transmitter. Rosemount's 4600 Panel Mount Transmitter, while weighing less than 1.5 pounds, offers a hermetic enclosure suiting it for oil and gas applications. Also in the Haygor catalog are transmitters with a range of interfaces. There's the 1151S Smart Pressure Transmitter with HART Communications, or model 1151E with 4-20mA analog output, 1151G with 10-50mA analog output, or 1151J with Square Root analog output.
Rosemount transmitters and related components Haygor is offering also include:
1144 Legacy Pressure Transmitter
1199 Remote Seal Systems
0304, 0305, 0306 Manifolds
Wireless, HART, Fieldbus, Profibus, Modbus
TEMPERATURE TRANSMITTERS
Rosemount offers a range of single point temperature transmitters for the process industry. These dependable units include the 3144P, 3144D, and 644 smart temperature transmitters plus the 3144MV/3244MV Multivariable Temperature Transmitter. Customers have the option of selecting from the 3244 temperature transmitter or analog models such as the 444R or 444T. The low power 444L is also available. We're also offering Rosemount's 244, 248, 648, and 848T transmitters and the 148 analog temperature transmitter, while the DIN-style 0068, 0065, 0078 sensors offer leading accuracy and vibration resistance.
In addition, standalone thermowells are in our catalog and come in several different designs. These include stepped, flanged, threaded, straight, and tapered, while 30 different materials are available to choose from. Rosemount doesn't skimp on the availability of communications protocols. The various products in our catalog can offer anything from Fieldbus to wireless; HART, Profibus, and Modbus devices are also ready to purchase, covering nearly every possible protocol supported by today's demanding industrial process systems.